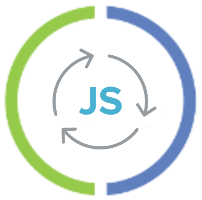 KLIPSE hotkeys and url parameters
KLIPSE layout is intentionnaly kept simple.
In this article, we describe how to tweek KLIPSE.
Hotkeys
Ctrl-Enter - eval and transpile
Ctrl-S - create a shareable url that embeds the content of your current KLIPSE session.
Ctrl-R - reload the app with the same content (pass the content to cljs_in url parameter).
url parameters
cljs_in=<cljs_code> - initial content of the clojurescript box ( code must be encoded properly)
js_only=1 - display only cljs and js boxes
eval_only=1 - display only cljs and eval boxes
static-fns=true - eval and transpile js code with static dispatch
external-libs - array of external libs to resolve the namespace dependencies. Here is an example with the gadjett library.